April 1, 2020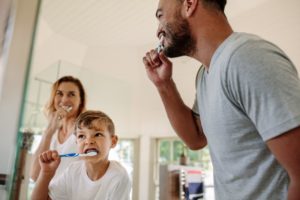 Last month, your dentist in Richardson postponed all of their elective treatments in the upcoming future due to the COVID-19 shelter-in-place orders. If you're diligent about scheduling your checkups and cleanings, this could be a nerve-wracking situation, especially if you look forward to getting a clean bill of health. While you're self-isolating, it's important to take additional preventive measures to ensure that no oral health problems begin to develop before you can visit your dentist in Richardson again. Read on for four tips to keep your teeth and gums healthy.
Stick to Your Daily Oral Hygiene Routine
If you're newly sheltering-in-place, the change of daily schedule may cause you to put your oral hygiene on the backburner while you get your new schedule in order. However, allowing this to happen could compromise your teeth and gums and cause plaque and tartar buildup that leads to oral health problems such as cavities. If you believe that you'll forget to brush or floss due to all of the stress and change, it's a good idea to set reminders on your cellphone to ensure that you don't let your oral health fall to the wayside.
Maintain a Nutritious Diet
Many people aren't aware that their daily diet impacts the health of their smile. When harmful oral bacteria accumulate in your mouth, they feed off of substances commonly found in processed foods, such as sugars and carbohydrates. This creates the perfect environment for them to thrive in. As they linger and eat these substances, they produce waste in the form of enamel-eroding acid and toxins that cause oral issues such as gum disease. In order to combat this effect, it's important to stay hydrated and substitute healthy alternatives such as fresh fruits and vegetables whenever possible.
Consider Taking Vitamin Supplements
If you have a difficult time getting the vitamins and nutrients you need, especially during COVID-19, it's a good idea to look into taking vitamin supplements to help boost your immune system and protect your gums. Here are some vitamins and minerals you can take to boost your oral health while you're self-isolating:
Calcium
Vitamin D
Potassium
Phosphorus
Vitamin K
Vitamin C
Vitamin A
Don't Forget to Floss
According to a survey conducted for U.S. News, about 32 percent of Americans don't floss on a regular basis. If you fall into this statistic, changing your habits while you're self-isolating will help improve your oral health and ward off any lingering threat of cavities. It's important to floss at least once a day in order to clear food debris and plaque from between your teeth. If you have a difficult time flossing, you can also try flossing picks or a water flosser. These are easy dental hygiene tools that are gentle on your gums and simple to maneuver to reach every quadrant of your mouth.
Keeping your smile healthy by following these four tips listed above will ensure that when you do visit your dentist in Richardson again, you'll get the clean bill of health that you were hoping for. Plus, maintaining great oral hygiene will help you avoid a trip to your emergency dentist while you're self-isolating!
About the Author
Dr. Hamid Mirsepasi began practicing dentistry in 1997 and completed three years of additional training to obtain his Graduate Prosthodontic Specialty Certificate from the University of Medicine and Dentistry in New Jersey. He has also completed advanced training and research to earn his Masters of Science in Dentistry. He stays up-to-date with the latest technology and techniques in the dental world so he can provide his patients with the high-quality care that they deserve. For questions or to schedule an appointment, visit HM Dentistry's website or call 972-231-5744.
Comments Off

on 4 Tips to Keep Your Smile Healthy While Self-Isolating
No Comments
No comments yet.
RSS feed for comments on this post.
Sorry, the comment form is closed at this time.