Dental Implants – Richardson, TX
The Pinnacle of Tooth Replacement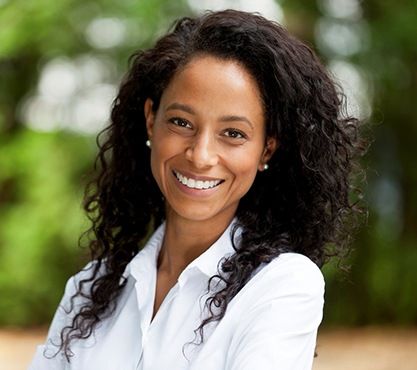 When we talk about tooth replacement, there is only one treatment that's designed to replace an entire tooth. Dentures and dental bridges may look like natural teeth, but only implants also function like a real dental structure, delivering a host of additional benefits (more on this below). At Hamid Mirsepasi, DDS, Dr. Mirsepasi is capable of replacing any number of teeth using state-of-the-art dental implant treatment. With his expertise, you can expect care that is incredibly convenient and accommodating. Call our dental office to see if dental implants in Richardson, TX are the right tooth replacement choice for you!
Why Choose Hamid Mirsepasi, DDS for Dental Implants?
Dental Implants Placed & Restored In-House
Expert Prosthodontist with Advanced Training in Tooth Replacement
Low- to No-Interest Dental Financing Available
What Are Dental Implants?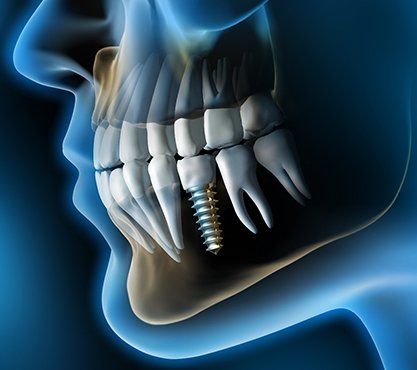 Dental implants are unique in that they don't just rest on top of your gums or remaining teeth. They go one step further by actually restoring the underlying roots of missing teeth. The dental implant itself is a small titanium cylinder that Dr. Mirsepasi surgically inserts into your jaw where the lost tooth's root used to be. Titanium is biocompatible, so the implant post encourages your jawbone to grow around it. This creates a strong foundation for a custom dental crown, bridge, or denture to be secured onto your implant via a metal abutment.
Because of their innovative three-part structure, dental implants are able to function exactly like real teeth. After the treatment process is done, your replacement teeth are practically indistinguishable from your natural ones. Plus, implants can even last for several decades after placement – maybe even a lifetime!
The 4 Step Dental Implant Process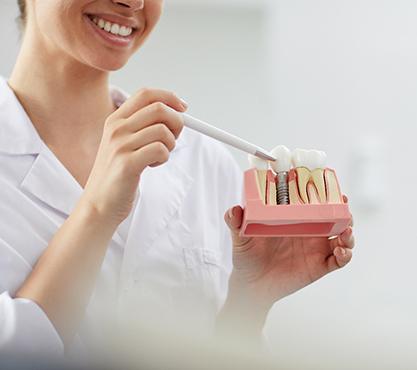 Initial Dental Implant Consultation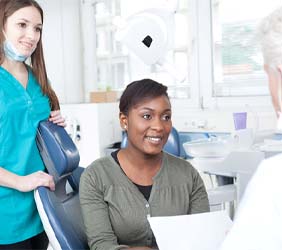 If you're interested in dental implants, you'll first meet with Dr. Mirsepasi for an initial consultation. He'll discuss your tooth replacement goals, review your oral health, and answer your questions. Typically, if you're missing any number of teeth, are in good oral health, and have adequate jawbone density, you're considered a good candidate for dental implants. However, if you're not initially a good candidate for dental implants, we can help you schedule preliminary treatments like a bone graft or gum disease treatment to help you get ready for your new smile. Then, we'll plan out every step of your treatment together so you'll know exactly what to expect.
Dental Implant Surgery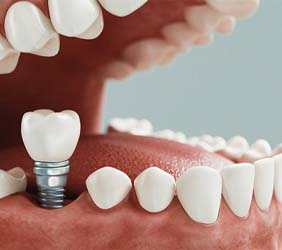 Thanks to Dr. Miirsepasi's advanced training, you won't have to visit an unfamiliar specialist for the next step of your treatment. Instead, you'll return to our office to have your dental implant placement surgery completed. Once we've fully numbed your mouth and ensured your comfort with sedation, we'll make one or more small incisions in your gums to access the jawbone. We'll place the dental implants directly into the bone tissue in carefully pre-planned positions and close the gum tissue around them. Then, protective caps are placed over the dental implants and you'll be sent home to heal.
Dental Implant Osseointegration & Abutment Placement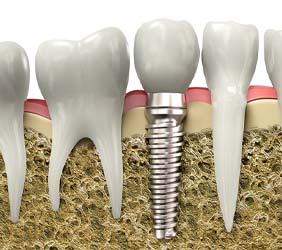 While you'll likely be able to return to work, school, and your other regular activities within a few days of your dental implant placement surgery, your jawbone will need much more time to heal. Over the coming months, the jawbone and dental implants will fuse in a unique process called osseointegration, which will give your new smile a strong, lifelike foundation.
After three to six months, you'll return to our office to have small connector pieces called abutments attached to the top of your dental implants. Then, you'll go home to recover once more while your final restoration is being crafted.
Delivery of Dental Implant Restorations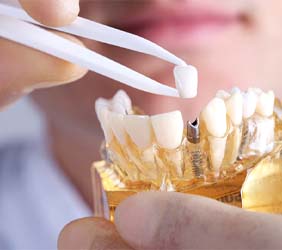 In just a few weeks, you'll come in for the final step in your dental implant treatment: the placement of your new teeth! We'll use the abutments to secure your custom-made crown, bridge, or denture onto the dental implants. Our restorations are made of high-quality porcelain and are color-matched to your smile for results that are virtually indistinguishable from your natural teeth. Then, once we've checked that you're pleased with your new smile, you'll be all set to go out and show it off to the world!
Benefits of Dental Implants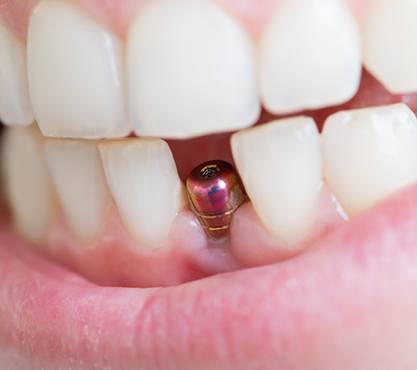 Since dental implants in Richardson restore the roots of the teeth along with the visible crown, you can expect many functional, aesthetic, and health benefits, some of which are listed below. When placed by a dental specialist like Dr. Mirsepasi, the success rate of dental implants is between 95 and 98 percent after 10 years of placement, giving you the confidence that your tooth replacement will withstand the test of time and you'll be able to get the most out of your investment.
Day-to-Day Benefits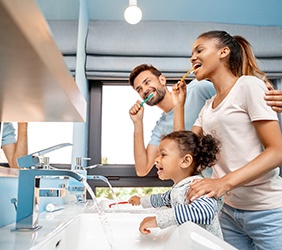 Easy to Care For. You can care for your dental implants like you would your natural teeth, just brush twice each day for two minutes, floss daily, and regularly rinse your mouth with an antimicrobial wash. Don't forget to also visit our team for your bi-annual checkups and cleanings!
Feel Good About Your Smile. Because your implant-retained restoration will look and feel completely natural since it will be anchored to your jawbone, you can feel more confident when you let your smile show.
Improve Your Oral Hygiene. By not having gaps and spaces in your mouth due to missing teeth, you'll be able to maintain a healthier smile by being able to brush and floss more effectively.
Health Benefits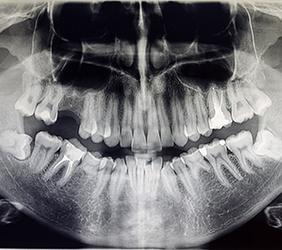 Preserve Your Jawbone & Facial Structure. When the roots of your teeth are no longer providing stimulation and blood flow to your jawbone, it will deteriorate. Due to dental implants' biocompatible nature, they're able to fuse with the bone structure and preserve its density.
Reduce Your Risk of Health Problems. Missing teeth can increase your risk of oral health problems like gum disease, which can also impact your physical health. By restoring your smile, you'll be able to more easily clear away plaque and food debris, improving your oral and overall wellbeing.
Maintain Your Dental Alignment. If you're missing one or more teeth in your arch, it can affect the alignment of your existing teeth. By replacing the teeth, you can avoid orthodontic issues down the road.
Long-Term Benefits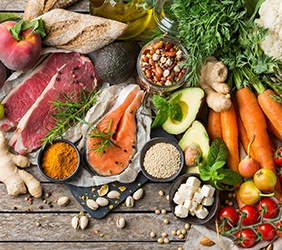 Cost-Effective Treatment with a Long Lifespan. Dental implants have an average lifespan of 35+ years, which is four times longer than traditional dentures and bridges. This makes dental implants in Richardson an incredibly cost-effective long-term investment.
Maintain a Healthy Diet. Because your teeth will be secured to your jawbone, you won't have to worry about restorations that shift and move as you try to chew your food, ultimately limiting what you can eat. This makes it easier to chew crunchy fresh vegetables and other nutritious foods that require stable teeth.
Minimize Visits to the Dentist. Because your dental implants will last longer than any traditional restorative treatment, you'll be able to spend less time with your implant dentist in Richardson and more time enjoying your beautiful smile.
Who Dental Implants Can Help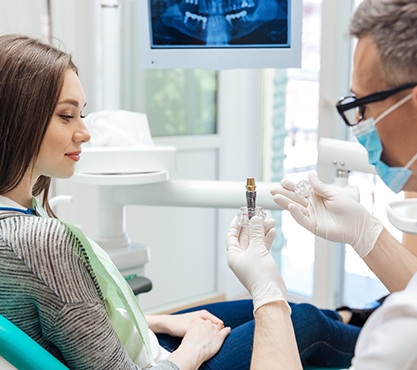 There are many cases where dental implants can be utilized. Whether you're missing a single tooth or all the teeth in your mouth, this revolutionary tooth replacement option can meet your needs.
Missing One Tooth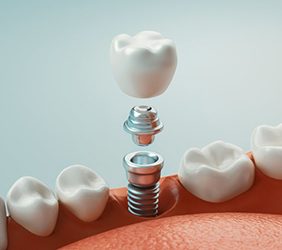 To replace individual teeth, a single dental implant is placed inside of the jawbone and given time to heal. Once fully integrated, we'll place an abutment which acts as a connector between the new tooth and the implant. Porcelain crowns are used to restore implants because they most closely recreate natural tooth enamel.
Missing Multiple Teeth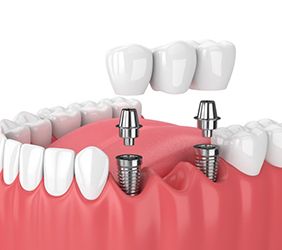 Dr. Mirsepasi does everything he can to conserve natural tooth enamel, and implant-supported bridges make this a whole lot easier. Instead of removing existing tooth enamel to hold a traditional bridge, a pair of dental implants can be used to secure a larger restoration, allowing you to replace two or more teeth at a time.
Missing All Teeth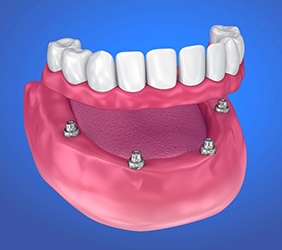 If you're tired of your current denture or want a more long-term solution for extensive tooth loss, implant dentures are one of the most effective options out there. By placing four to six dental implants, we can secure a full or partial denture to your jawbone that is fixed or removable, depending on your preference.
Understanding the Cost of Dental Implants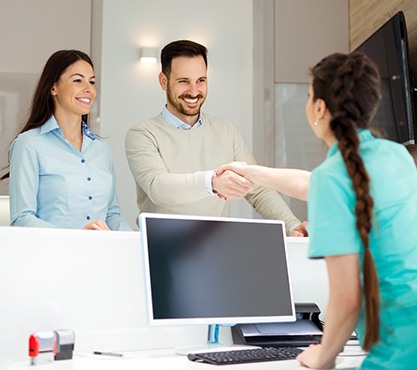 Since dental implants are one of the most customizable treatments out there, the best way to know how much your particular procedure will cost is after you've had a detailed examination of your current smile. During this exam, we can confirm the number of teeth you want to replace, the type of dental implants and restorations you need, and whether or not you require preparatory treatments (gum disease therapy, bone grafts, etc.). All of these can dramatically influence your total cost. With that said, because of the longevity and durability of dental implants, they are generally seen as the most cost-effective solution despite their higher price tag compared to traditional bridges and dentures.
Types of Dental Implants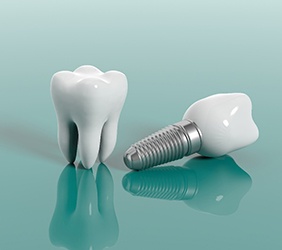 There are different types of dental implants, each designed to address one or more missing teeth.
Single Tooth Implant – A single tooth implant uses one titanium post, metal abutment, and custom-made dental crown to replace a single tooth.
Implant Bridge – An implant bridge requires the use of two dental implants that are positioned into the vacated sockets. A customized dental bridge is created and placed on top of the two implants, allowing continued stimulation of the jawbone and a restored aesthetic.
Implant Denture – When dealing with a mouth full of missing teeth, you can expect an implant denture to be more expensive. However, when compared to traditional dentures that require frequent relining, readjusting, and replacing over the years, the implant denture proves to be a worthy investment.
What Are the Stages of Dental Implant Treatment?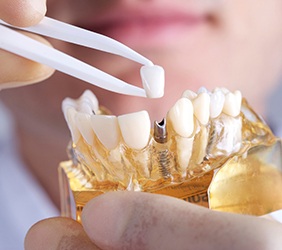 Consultation: During this visit, Dr. Mirsepasi will discuss the implant process, its cost, and examine your oral structure before taking impressions of your smile. This visit does incur a fee, especially due to the fact it requires much time and careful planning on the part of the dentist.
Surgical Placement: Naturally, the surgery itself will be another fee. Depending on how many implants you need to have placed, one or more incisions will be made in your gums before placing the implants and closing the surgical sites.
Custom Restoration: After you've fully healed, you will need to return to our office to have your custom restoration put into place. Dental lab technicians will work to create a crown, bridge, or denture that matches the rest of your smile, so you are pleased with the results.
Are Dental Implants Worth the Investment?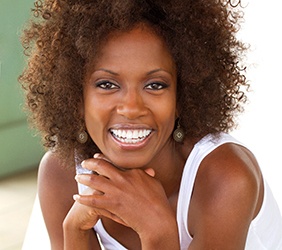 The resounding answer to this question is yes! Although more costly upfront, dental implants offer a plethora of advantages that cannot be achieved with any other type of tooth replacement restoration. From longevity to functionality, stability, and even overall aesthetics, dental implants make it possible to enjoy a longer-lasting smile that looks and feels completely natural. You'll never have to worry about dental adhesive or having your teeth relined to fit your jaw. Dental implants are the permanent solution for anyone looking to replace missing teeth and enjoy a healthier, fully restored smile.
Does My Dental Insurance Cover Dental Implants?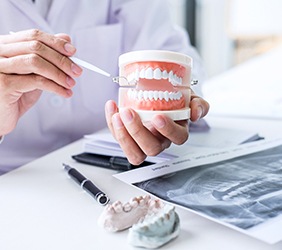 When discussing ways to pay for your dental implant placement, it will be advisable for you to reach out to your dental insurance company and ask about coverage. While most insurers still do not cover dental implant placement, others are becoming more open to the idea, viewing it more as a necessity than a "want" on behalf of the patient.
If you're unsure where to start or what to ask your dental insurance representative, don't hesitate to contact our staff members. They will be happy to work on your behalf to get the answers you need to move forward with your dental treatment.
Dental Implant FAQs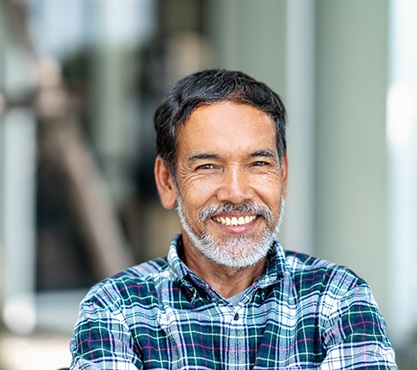 Dental implants have quickly become the gold standard for tooth replacement. And, if you choose to get them at our practice, Dr. Mirsepasi can place and restore your implants all at our same convenient location. Many patients are curious about this treatment option, which is why we've included the answers to some of the most frequently asked dental implant questions. Keep reading to learn more about how we can complete your smile with dental implants.
Why Are Dental Implants So Popular?
Dental implants are an incredibly popular tooth replacement because of the many advantages they bring our patients. However, no benefit is more important than your health. Dental implants allow you to eat a more varied diet for increased nutrition, they make it easier to maintain your smile at home, and they stimulate your jawbone to prevent it from deteriorating after tooth loss. These reasons combined with many other benefits make implants the premier choice for tooth replacement.
Does it Hurt to Get Dental Implants?
People hear that the implant process requires surgery and automatically assume that the procedure will be painful. However, we are committed to ensuring that our patients are as comfortable as possible, and we offer sedation dentistry for a greater sense of calm. Those who have undergone implant surgery relate the sensation to a simple tooth extraction. You may feel some slight soreness after the procedure, but this is the only discomfort that you will have to experience.
Can Dental Implants Help with My Dentures?
If you have dentures, you may experience slipping and sliding while speaking or chewing. This can not only irritate your mouth, but it can be incredibly embarrassing, affecting your overall confidence. Thankfully, Dr. Mirsepasi, an expert dentist in Richardson, can use dental implants to support dentures. In some cases, he can even utilize your current denture, modifying it to fit on top of your newly placed implants. However, this will depend on a case-by-case basis.
What are Dental Implants Made Of?
One of the main reasons for the success of dental implants in Richardson is the material they are made of. Our dental implant posts are constructed from titanium, which is a biocompatible material that fuses to the jawbone when placed. This osseointegration process allows our patients to enjoy unmatched beauty, strength, stability, and functionality. With proper care, our durable titanium implants can last for an entire lifetime.
Am I a Good Candidate for Dental Implants?
If dental implants sound like a great option for your smile, you're probably wondering if you're a candidate. Because every smile is different, it's difficult to know without visiting our office first. Dr. Mirsepasi will carefully examine where you're missing teeth, the condition of your oral health, and the strength of your jawbone before making the recommendation best for you. Next, we can create a personalized treatment plan and begin the dental implant process!
If you have any additional questions, please don't hesitate to contact our office today!