Dental Crowns – Richardson, TX
A Trusted Solution for Damaged or Decayed Teeth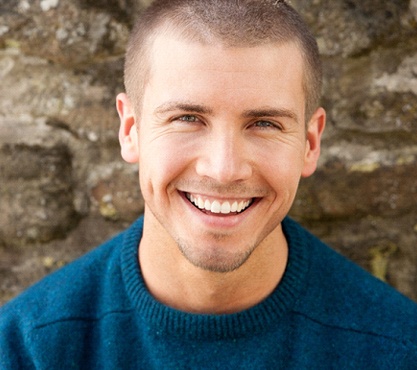 Do you have a tooth that has sustained major damage or decay? Restorative dentistry is the answer to help you recover a healthy smile. Specifically, dental crowns provide a trusted solution for damaged or decayed teeth. At HM Dentistry, Dr. Mirsepasi draws upon his expertise in prosthodontics to utilize tooth-colored ceramics to ensure the most natural-looking result without sacrificing durability. Contact your dentist in Richardson to schedule a consultation!
Why Choose HM Dentistry For Dental Crowns?
Prosthodontist With Extensive Restorative Training
Metal-Free Restorations Result In Improved Esthetics
Treatment Focuses On Conserving Tooth Enamel
What Is a Dental Crown?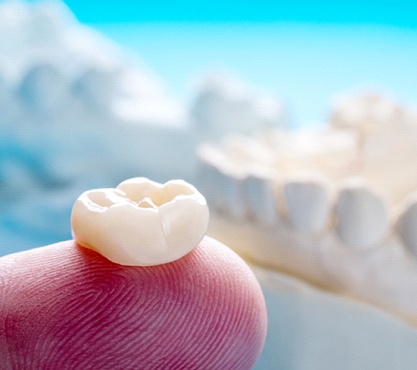 A dental crown is a customized cap placed on top of a damaged tooth. It is used to protect, cover, and restore the shape of your tooth when a filling will not solve the problem. Dental crowns can be made of porcelain, ceramic, metal, zirconia, or Emax. They typically do not require special care over time other than good oral hygiene.
The crown restores the tooth's shape, size, strength, and appearance. There is an array of potential reasons you might need a dental crown, such as protecting a weak tooth from breaking, restoring a broken tooth, holding a dental bridge in place, covering a dental implant, shielding a tooth that's been treated with a root canal, and covering a tooth that is misshapen or discolored.
The Process of Getting Dental Crowns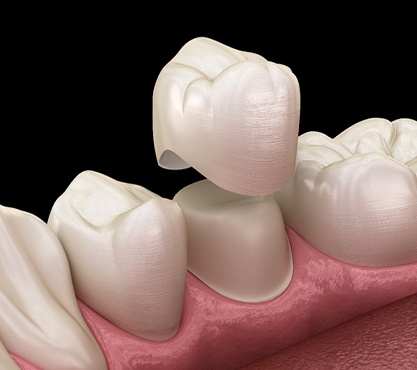 You will typically have two appointments to get dental crowns in Richardson. During the first visit, the tooth that's going to receive the crown is examined and prepared. X-rays are taken of the tooth and the bone around it.
Once your dentist determines that you do not need a root canal before your crown procedure, they will file the tooth down across the top and sides to create space. The amount of tooth filed depends on the type of crown you are getting. If too much of your tooth is missing, a filling material can be used to build sufficient tooth structure.
Then, an impression is made of the tooth receiving the crown and the tooth below it so as not to affect your bite. The impressions are sent to a lab and in the 2-3 weeks to follow, you will wear a temporary crown prepared by your dentist. On the second visit, the temporary one is removed, and your permanent crown is cemented in place!
The Benefits of Dental Crowns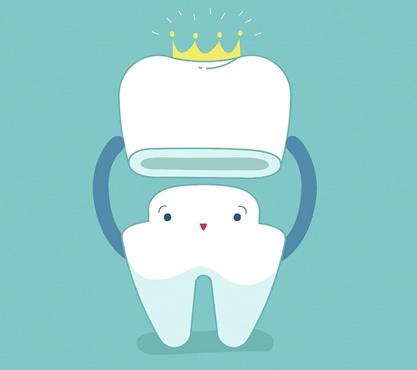 The primary benefit of a dental crown is that it can restore your damaged or broken tooth to full function. But that's just the tip of the iceberg. A crown can improve your appearance since it matches the color and texture of other teeth. If your teeth have changed over the years due to nighttime grinding (bruxism), crowns and a nightguard can revitalize and safeguard your smile.
If you require a large filling or a root canal, a crown can provide strength and protection for that tooth. A crown can add stability to a dental bridge while protecting surrounding teeth. Also, consider that a dental crown can last 5-15 years and perhaps more depending on the material and your oral hygiene habits, plus getting one is a relatively simple process as mentioned above.
Dental Crowns FAQs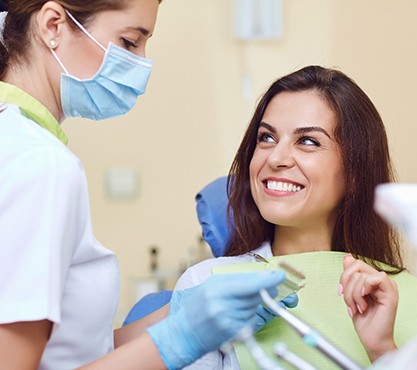 If you're told that you need a dental crown and you've never experienced restorative dentistry before, it's understandable if you're concerned or have questions about your upcoming treatment. Just know that it's perfectly okay to have questions and the team at HM Dentistry is happy to help however we can. We recommend taking a moment to review our FAQ section below as your question may very well be listed. If it is not, just let us know at your next appointment!
How Long Do Dental Crowns Last?
Dental crowns can usually last anywhere between 5 and 15 years depending on a few different factors. While the materials used to create the crown can affect their lifespan, it also depends on how well you take care of them and your external habits. Metal crowns will generally have a longer lifespan than non-metal ones, but the difference is often negligible and not guaranteed. The more important factors that affect your crown's durability include your at-home oral hygiene, whether you use tobacco, and having poor habits like nail-biting or eating ice. If you grind your teeth and don't have a nightguard, that can also cause it to break down sooner.
Do Dental Crowns Get Cavities?
The crowns that cover damaged teeth do not get cavities simply because they are not made from organic materials. However, that doesn't mean the tooth the crown is covering cannot develop cavities later. Crowned teeth have about the same risk of decay as an uncrowned tooth, so you do not want to skip your brushing and flossing. Bacteria can still reach around the gum line where the tooth meets the crown. The easiest way to prevent cavities in crowned teeth is the same way you'd prevent cavities in the rest of your teeth – brushing twice a day, flossing once a day, and staying on top of routine dental checkups and cleanings.
Do Dental Crowns Feel Natural?
Your dental crown should start to feel natural a few days after it's placed. Crowns are made from durable materials designed to withstand everyday chewing forces nearly as easily as enamel. Eating food, speaking and performing other basic tasks should not feel strange. One of the reasons we reshape the tooth that holds the crown is so it can fit as comfortably as possible. You can also expect your crown to be made using a highly accurate impression made at our office. While your crown may feel slightly different when you run your tongue across it, it should feel natural enough that after a few days to a week you won't even notice your crown is there!
What's the Difference Between a Temporary Crown and a Permanent Crown?
Temporary crowns are not meant to stay on teeth for very long (as the name implies). At most, they should only be on teeth for a couple weeks as the permanent crown is being fabricated in a dental lab. Temporary crowns are made from relatively inexpensive materials like acrylic or composite resin. They are also bonded with weak cement so it can be removed easily once the permanent crown is made. Be sure to brush and floss carefully around crown to prevent it from coming loose. Do not snap the floss from underneath the temporary crown as this can cause it to come off completely.