Implant Dentures – Richardson, TX
Replacement Teeth That Always Stay in Place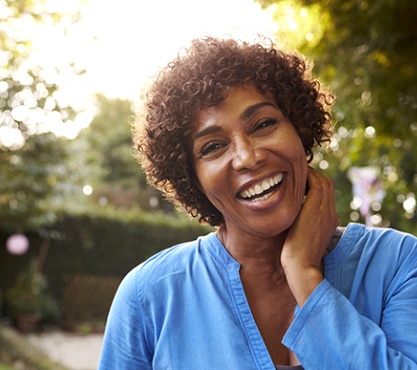 Losing a full arch of teeth is a stressful experience, to say the least. The last thing you want is a denture that always slides around and makes your everyday life annoying. Luckily, dentures can be anchored onto dental implants to create replacement teeth that always stay in place. As a prosthodontist with more than 20 years of experience, Dr. Hamid Mirsepasi is proud to offer implant dentures in Richardson, TX that look, feel, and function just like the pearly whites you once had. Contact our team at HM Dentistry today to learn more about this transformative smile solution!
Why Choose Hamid Mirsepasi, DDS for Implant Dentures?
Experienced Prosthodontist Who Has Specialized in Tooth Replacement
Dental Implants Placed In-House
Judgment-Free Dental Office
What Are Implant Dentures?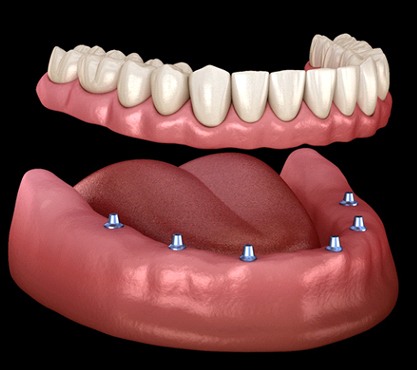 Regular dentures rely on natural suction or messy adhesive to remain stable in the mouth, but implant dentures are much more secure because they're attached to dental implants. These artificial tooth roots are made from biocompatible titanium; after being surgically placed in your jaw, they integrate with the bone to create a foundation as strong as that of your natural tooth roots. As a result, your new teeth will never slip around or fall out, and you won't need special products to keep them secure.
Depending on the type of implant denture you receive, your prosthetic may require somewhere between two and six dental implants on average. We can also design your implant denture to be removable like a traditional denture, or fixed in place just like natural teeth. You can discuss these options in detail during your consultation with your implant dentist in Richardson.
The Implant Denture Process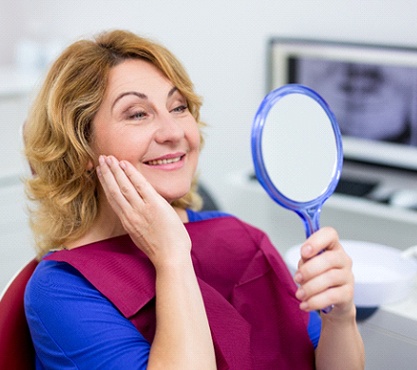 Once Dr. Mirsepasi has determined that implant dentures are right for you, he can begin by surgically placing the dental implants in your jawbone. While general dentists often have to refer their patients out to specialists for this procedure, Dr. Mirsepasi has completed the advanced training required to be able to handle it himself, streamlining your treatment process for added convenience.
First, he creates incisions in your gum tissue, through which he positions the dental implant posts strategically throughout your jaw. Once in place, we cover these posts with protective caps that encourage the bone to grow around them. This process, called osseointegration, takes several months, but it's the key to the stability and long lifespan of dental implants in Richardson. After osseointegration is complete, you'll return to our office to have your prosthetic secured into place.
Am I a Candidate for Implant Dentures?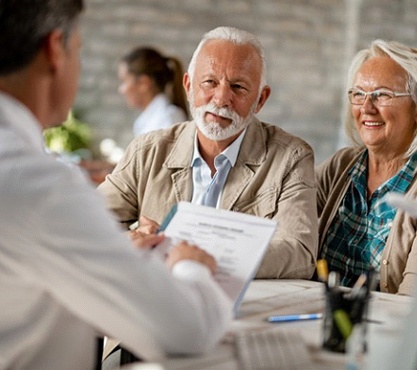 You're probably a good candidate for an implant denture if:
Your jawbone is strong and healthy enough to support dental implants.
You don't currently have gum disease or any other medical conditions that could impact your ability to recover from oral surgery.
You have lost most or all of your teeth on an arch, or you will soon.
You're frustrated with your current denture.
Dr. Mirsepasi can examine your mouth and review your medical history to determine whether you're eligible for implant dentures. Most patients are, whether initially or after preparatory procedures like bone grafting.
Benefits of Combining Dentures & Dental Implants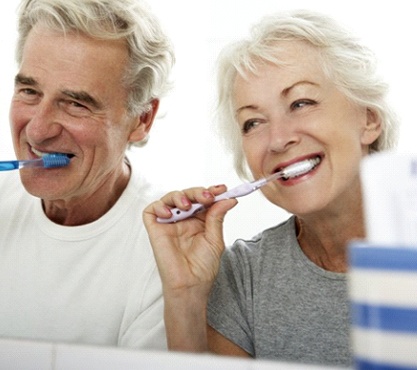 Because implant dentures resemble your natural teeth in almost every way, they provide numerous benefits, including:
Your teeth will stay in place and deliver enough chewing power to let you enjoy your favorite foods.
Dental implants stimulate the jawbone, preventing it from breaking down after tooth loss. Traditional dentures don't do this, resulting in a wrinkled facial appearance, but implant dentures help you look many years younger.
While regular dentures only last for five to seven years at most, implant dentures can last for up 30 years or even longer.
Your new teeth will look and feel just as natural as the ones you were born with.
If your implant dentures are fixed in your mouth, you can brush and floss them as if they were your natural teeth.