Tooth Extractions – Richardson, TX
Comfortable, Safe, and Effective Extractions Protect Oral Health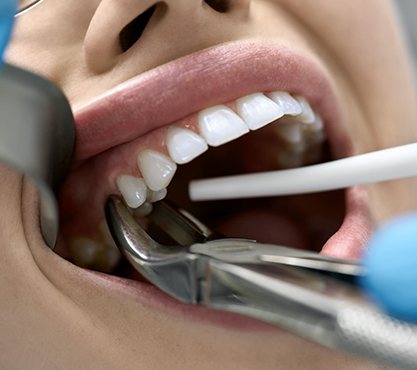 At Hamid Mirsepasi, DDS, our goal is to not extract and treat the tooth with a conservative approach. More often than not, teeth can be saved and restored with the right materials and techniques. However, when teeth are so damaged that they put other teeth at risk, it may be necessary to ensure that these teeth don't become damaged or infected by harmful bacteria as well. Before your treatment, we'll make sure that you understand exactly why tooth extraction in Richardson is needed and that you're comfortable before moving forward. Call our dental office to protect your smile from problematic teeth!
Why Choose Hamid Mirsepasi, DDS for Tooth Extractions?
Implant Placement Available In-House Following Extraction
Dentist Caters to Conservative and Comfortable Dentistry
Over 20 Years of Dental Experience
When Do Teeth Require Extraction?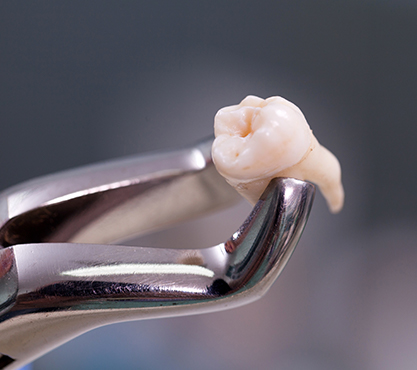 One of the most common reasons teeth need to be extracted is because of longstanding decay or gum disease that makes them no longer viable or incapable of staying in the jaw. Alternatively, teeth may need extraction if they are forcefully damaged, leaving the pulp so exposed that a crown could not effectively cover it. In other cases, some teeth may interfere with a patient's ability to complete orthodontic treatment. Regardless of the cause, we'll make sure you are fully informed of your situation and what your options are for tooth replacement.
Tooth Extractions FAQs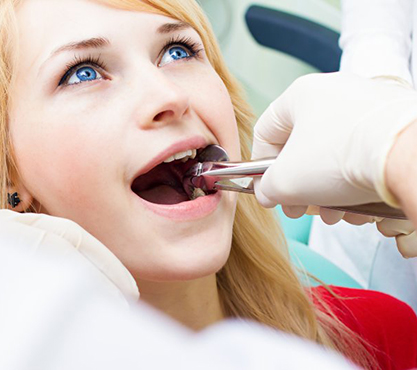 Even though your teeth are designed to last a lifetime, there are some cases where tooth extractions in Richardson might be the healthiest option for your oral health as a whole. Dr. Mirsepasi understands that having a tooth removed can sound scary, but don't worry. Our team is here to assuage your fears and make sure you feel comfortable every step of the way. To that end, we've answered some of the questions about tooth extractions that we get asked often. Of course, please call us if you have any additional questions!
Is There an Alternative to Getting a Tooth Extracted?
As lifelike as modern tooth replacements are, your dentist in Richardson will always try to preserve your natural teeth whenever possible. For example, if a tooth is severely decayed or damaged, then a root canal and/or crown might be able to protect it for many more years to come. However, if the tooth simply cannot be salvaged, then removing it may be the only way to prevent the damage or infection from spreading to your other teeth or gums. Dr. Mirsepasi only recommends extracting a tooth when it truly is the best option for your smile's health.
Does Getting a Tooth Removed Hurt?
No matter how many teeth you're having extracted, the first step in the process is always the same: numbing your mouth. Modern local anesthetic should ensure that you feel no pain while your tooth is being removed. You may feel a tiny amount of pressure as the tooth breaks free from the connective tissues, but it shouldn't hurt.
After your tooth extraction, it's normal for the area to feel sore for a few days. Our team will provide you with detailed aftercare guidelines that will help you minimize this discomfort.
Can I Leave the Space Empty After a Tooth Extraction?
Many patients are tempted to simply leave the new space in their mouth empty after a tooth extraction, especially if it's near the back of the mouth where no one can see. However, each and every tooth is essential to your smile's function. If even one tooth is lost, the others around it begin to shift out of alignment, which could lead to discomfort as well as difficulty chewing and speaking later on. Therefore, we highly recommend that you meet with Dr. Mirsepasi once you've recovered from your extraction to discuss your options for replacing the tooth.
What Are My Options for Replacing a Missing Tooth?
Depending on the number of teeth that were removed, you have a few options for completing your smile:
Dental bridges can replace one, two, or three teeth in a row by anchoring prosthetic teeth onto two of your remaining teeth via crowns.
Full dentures can bring back a whole row of teeth with an acrylic base that sits on the gums.
Partial dentures have a metal framework and a number of strategically placed artificial teeth that seamlessly fills the gaps.
Dental implants can replace any number of teeth with titanium posts that function as new tooth roots. In most cases, dental implants look and feel identical to your natural teeth, and they can last for several decades.
Ultimately, the solution that's best for you will depend on your specific needs and preferences, which you can discuss with Dr. Mirsepasi.