December 25, 2019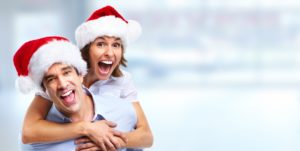 Every holiday season is full of memories as you spend time with family and friends. If you aren't careful, it can also leave a mark on your smile. Although it may only be a couple of months out of the year, a few bad habits during the season can increase your risk of preventable oral health issues, like tooth decay. There's no need to worry. Your dentist in Richardson has 5 tips to maintain a healthy smile throughout the holidays.
1. Eat sweets with dinner.
You've always been told you need to eat your dinner before you can have your dessert. What if your dentist told you it's better to have your sweets with your meal? Eating increases your saliva production to rinse sugar and food particles from your teeth. As a result, combining your dessert with your dinner will reduce the risk of harmful bacteria lingering on your teeth.
2. Drink plenty of water.
You know you're supposed to drink plenty of water to stay hydrated, but did you know it's also important for a healthy smile? Water keeps your mouth moist to rinse bacteria and food particles from your teeth in between brushing and flossing. Although you'll be tempted with sweet juices and sodas, always choose water when possible.
3. Choose crispy fruits and vegetables.
Fruits and vegetables aren't just good for your waistline. They also promote a healthy smile. Crunchy fruits and vegetables act like scrub brushes for your teeth. They scrape off harmful biofilm that can lead to tooth decay and gum disease.
4. Eat low-fat cheese.
Low-fat daily products create a healthy smile from the inside out. Cheese in particular is very beneficial because it contains calcium and phosphate, which are needed for healthy enamel. It also increases your saliva production to reduce the bad bacteria in your mouth.
5. Visit your dentist.
The American Dental Association recommends everyone visits their dentist at least twice a year. If you haven't been in the last 6 months, now is the perfect time to schedule a cleaning and checkup. Not only will your smile look great, but your dentist can also detect any issues in your mouth that may turn to a bigger problem down the road. You can reduce the risk of a dental emergency ruining your holidays by scheduling an appointment now.
Enjoy a Healthy Holiday Smile
You can enjoy the holiday season without harming your teeth and gums. Although the next few weeks may be busy, stay committed to your dental health to ensure you start the new year with a healthy, beautiful smile.
About Dr. Hamid Mirsepasi
Since 1997, Dr. Hamid Mirsepasi has provided comprehensive dental care. Besides earning his dental degree, he furthered his education by 3 years to specialize in prosthodontics. He later went on to earn a Master of Science in Dentistry. He offers the world-class care you deserve using the latest solutions in dentistry. If you need an appointment before the year ends, contact our office today.
Comments Off

on 5 Healthy Smile Tips for the Holidays
No Comments
No comments yet.
RSS feed for comments on this post.
Sorry, the comment form is closed at this time.