August 30, 2019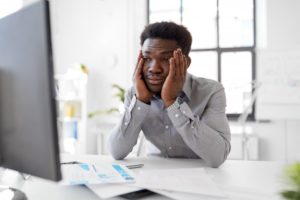 Stress is a national epidemic in the United States, and it's something that practically everybody experiences as an adult. It can have grave impacts on your health, and many people develop unhealthy habits and coping mechanisms to help deal with it. The root of the issue can sometimes be hard to find and treat because it often involves a variety of complex factors. When you suppress your stress on a daily basis, it could result in excessive drinking, sleeping conditions, mindless eating, and even teeth grinding. Learn how your dentist in Richardson can reduce the impact this bad habit is having on your oral health.
How Common is Teeth Grinding?
People often grind their teeth as a response to stress when they're asleep, but that doesn't mean it doesn't happen while they're awake too. Doing this while you're awake is less common, but about 20 percent of the population does. Once it forms into a habit, it's hard to break. In fact, to change your response to stress, you'll need to make yourself aware of when you're doing it and correct it.
Teeth grinding is more common in people who have relatives that also have it. While it's often caused by stress and anxiety, it can also be a result of other issues. It often goes undetected at night when people are sleeping because they don't notice unless they exhibit symptoms the next morning, like a sore jaw. According to the American Sleep Association, about ten percent of American adults are affected by night bruxism. So, if you have it, you're not alone.
Why Do People Grind Their Teeth?
Throughout the day, you're burying your stress, worry, and anxiety to be more productive. While you can address these issues with therapy, self-care, and balancing your life better, your body may still react to it by grinding your teeth. Just because you hit the mattress and your brain can shut off doesn't mean that the buildup of stress disappears. Instead, your body responds to it by clenching and grinding your teeth. Your condition could also be caused by an abnormal bite, a sleeping disorder, or missing or crooked teeth.
How Can Your Dentist Help Reduce The Impact?
Chronic teeth grinding can severely impact your teeth and leave them vulnerable to being attacked by plaque and harmful oral bacteria. Plus, if you have any restorations like crowns, bridges, or implants, these can be damaged as well. Luckily, your dentist can help reduce the impact that this bad oral habit has on your mouth by creating you a custom-fitted nightguard to protect your teeth.
In addition to seeking treatment, it's healthy to look into long-term options that will help reduce your stress, such as attending exercise programs or counseling. When you take the proper steps to look after your oral and overall health, you can begin to rest easy.
About the Author
Dr. Hamid Mirsepasi has been practicing dentistry since 1997 and is more dedicated than ever to restoring his patients' quality of life by giving them high-quality care. He completed three years of additional training to earn his Graduate Prosthodontic Specialty Certificate as well as additional research to earn a Master of Science in Dentistry. As one of the few prosthodontists in Richardson, he takes pride in being able to offer a variety of services. For questions or to schedule an appointment for a custom nightguard, visit HM Dentistry's website or call 972-231-5744.
Comments Off

on Stress and Your Oral Health: How is Grinding Your Teeth Destroying Your Mouth?
No Comments
No comments yet.
RSS feed for comments on this post.
Sorry, the comment form is closed at this time.