February 20, 2019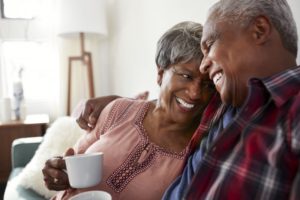 If you're looking into dentures, the idea of them being removable or having to sanitize them every night may seem inconvenient and like it's going to take time away from other things in your life. Luckily, you have options that are healthier and more convenient so you don't have to plan the rest of your life around your teeth. Whether you need multiple teeth replaced, or an entire arch, dental implants in Richardson could be the natural-feeling alternative that you've been searching for.
How Do I Know If Dental Implants Are Right For Me?
There are many reasons to get dental implants, including replacing teeth that have been removed due to gum disease or infections, if you have a loose bridge, or if you're sick of dealing with denture care. Dental implants offer a slew of benefits and will allow you to focus on other things in your life besides maintaining your dentures.
In order to get dental implants, you have to meet some requirements. In most cases, it's required that you and your gums must be healthy enough to hold the implants. You must be committed to maintaining and upkeeping your oral hygiene. It's also likely that if you struggle with teeth grinding or clenching, this may affect your ability to get dental implants.
What Exactly Are Dental Implants?
A dental implant is when a titanium screw attached to your jaw supports your recreated teeth. Regular dentures are made to primarily focus on aesthetic. Dental implants not only are recreations of your teeth, but also of their roots. Because of this, they help preserve your jawbone and promote growth. So, not only are they better for your overall oral health, they also provide you with day-to-day convenience not offered by dentures. You won't ever have to remove your implants after each meal or worry about them slipping because they function in the same way your natural teeth do.
Dental implants are connected to your jawbone which provides stable support for your new teeth. They look and feel completely natural and won't slip in your mouth like your dentures may. The security that they offer you makes daily tasks like eating and speaking easier. For certain people, traditional dentures aren't even an option because of sore spots or an easily triggered gag reflex, so dental implants may be the best choice for you.
What Are Some Benefits of Dental Implants?
Although some basic benefits of dental implants have already been touched on, let's go into more detail:
Improved speech is a nice added benefit of implants. With your slipping dentures, you may have noticed that you mumble and slur your words. You don't have to worry about that anymore because implants don't shift.
They offer you more comfort because they become a permanent part of your mouth, just like your natural teeth.
Your self-esteem will skyrocket because you won't have to worry about your dentures slipping during a conversation with somebody or hide your smile.
You will notice significant benefits to your oral health with your new implants. Nearby teeth don't have to be reduced or altered in order for your implant to fit, which allows more of your teeth to be left in place than if you were to get a bridge.
Lastly, the best benefit to dental implants is the convenience they offer. You can forget about all those embarrassing moments that your dentures caused. There's no need to sterilize them every night and no messy or sticky adhesives to handle, just your basic brushing and flossing.
Dental implants can provide you with the convenience of life again while boosting your self-confidence. Why worry about all the problems that come with denture care when you don't have to? Schedule an appointment with your dentist to talk about achieving your healthy and beautiful new smile.
About the Author
Dr. Mike Hamid Mirsepasi offers the community of Richardson over two decades of the best quality prosthetic care. With his specialties in dental implants, dentures, crowns and bridges, Dr. Mirsepasi gives you the reassurance and expertise you need to feel comfortable investing in your smile. He has served as president for the Washington State Society of Prosthodontists and is a member of the American College of Prosthodontists. If you have any questions about making the first step to getting dental implants, visit his website or contact his practice at (972) 231-5744.
No Comments »
No comments yet.
RSS feed for comments on this post. TrackBack URL
Leave a comment